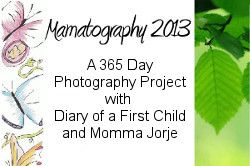 This post is part of the
Mamatography 2013 Project
with
Diary of a First Child
and
Momma Jorje
. We are taking (at least) a photo a day to keep a record of our year. Join us at any point during the year and start sharing your own daily photos!
38: A sleeping Isaiah. It's always surprising when I wake up and he's in my bed in the morning, after putting him to bed in his own.
39: Just your average Friday, but I forgot to take a picture.
40: No pictures again. Although we did have an interesting night. He kept sitting up in bed and saying, "Ni Hao." Presumably because he watched Kai Lan.
41: Isaiah picked out a beanbag chair for his reading corner and decided to try it out at Mama and Papa's house.
42: The coconut oil is Working!
43: Making 22 felt crayon holder Valentines for Isaiah's class. He came home with tons of candy.
44: Went to lunch with a friend at a Chinese buffet.
***
Without further ado, here are the Mamatography 2013 participants!