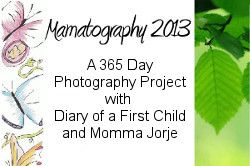 This post is part of the
Mamatography 2013 Project
with
Diary of a First Child
and
Momma Jorje
. We are taking (at least) a photo a day to keep a record of our year. Join us at any point during the year and start sharing your own daily photos!
24: Love making rice crispy treat "muffins" with Isaiah.
25: Fun with Mr. Potato Head
26: Got the corner kind of cleaned up.
27: My poor, sick little boy
28: Oops. No picture from today.
29: Added a different table, moved the book/movieshelf out of his corner
30: Yummy beef vegetable stew my mom made.
***
Without further ado, here are the Mamatography 2013 participants!