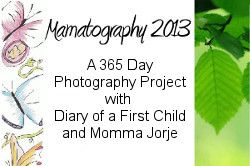 This post is part of the
Mamatography 2013 Project
with
Diary of a First Child
and
Momma Jorje
. We are taking (at least) a photo a day to keep a record of our year. Join us at any point during the year and start sharing your own daily photos!
17: Playing with his construction gear while we watch Gold Rush.
18: Oh No! The blimp popped! (My mom, a.k.a. Mama, works at Goodyear and gave Little I this blow-up blimp. I figure I'll just find the hole and super glue it.
19: The face shot of the week. Still no improvement. (Yes, there will be one of these each week on whatever day I don't remember to take a picture of anything else.)
20: This corner needs some work. I want to make it into a reading area/chill out corner for Isaiah. Any ideas?
21: Apparently playing games on his Leap Pad really wears him out.
22: The yummy strawberry-banana smoothie I made for lunch. Isaiah got to have some with his peanut butter sandwich. On a side note: will that kid ever get tired of PB&J?
23: Isaiah apparently has Psoriasis too (he has little red, scaly spots all over his face). I can't wait for my coconut oil to get here!
***
Without further ado, here are the Mamatography 2013 participants!