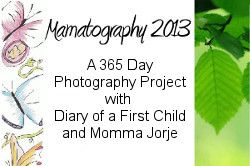 This post is part of the
Mamatography 2013 Project
with
Diary of a First Child
and
Momma Jorje
. We are taking (at least) a photo a day to keep a record of our year. Join us at any point during the year and start sharing your own daily photos!
10: Isaiah acting like he wasn't just BEGGING me to take pictures with him.
11: Measuring how much Little I has grown. He's now 43 3/4 inches tall!
12: Passed out at a red light on the way to Mama and Papa's house.
13: Technically this started on the 12th, but it was close to midnight, so it counts as Sunday, right? I thought I heard someone breaking in next door, so I went to check it out. My weapon of choice? A Pampered Chef meat tenderizer. Also, later that night/morning, Isaiah woke me up screaming and crying saying a man was trying to break in through the window. Needless to say, we didn't get much sleep and missed church
coconut oil from Nutiva
, but it won't come in till next week.)
15: Mommy take a cheeze! My super hero in his pull-up.
16: This is definitely what we needed Wednesday before school. A nice long nap.
***
Without further ado, here are the Mamatography 2013 participants!