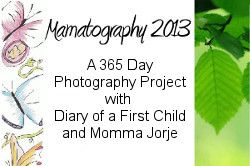 Mamatography: A 365 Day Photography Project. At least one picture per day of what you did that day.
Sunday, we finally got working lights on the Christmas tree and then my angel topper stopped working. But at least it's up. It also has ornaments and candy canes on it by now. Now I just have to wrap the presents and put them under the tree... and keep Isaiah from trying to open them.
By the way, this tree is OLD. It used to be my mom's before I moved here and she got a new one. The tree skirt and angel topper also came from her.
Monday, Dad and Pastor Brown did some more cleaning and patching up walls. In the closet, Dad had to scrape layer after layer of wallpaper off.
Tuesday, Isaiah wanted to wear his mustache as we visited Papa, picked up B, and went to the store.
And then B tried it on for size.
Wednesday, after noticing the paint peeled nicely off of the plastic, I made designs for Isaiah to peel off and put together on the glass of an empty picture frame.
Thursday, the closet is done.
Friday, Papa and Pastor started putting the wood laminate flooring. They decided it would last longer than carpet in the high traffic areas and it cost about the same.
Saturday, Isaiah and I went to my parents house and I baked with Mama and N. We made 54 dozen cookies in 4 1/2 hours: Chocolate chip, peanut blossoms (pictured below--peanut butter cookie dough, rolled in sugar, and a Hershey's kiss shoved in the middle), and peanut butter cups (chocolate chip cookie dough, minus the chocolate chips, baked in mini-muffin pans, with mini Reece's cups shoved in the middle).