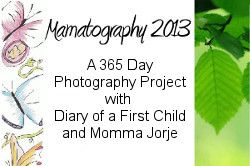 Mamatography: A 365 Day Photography Project. At least one picture per day of what you did that day.
Sunday, we had church, family time, and a nap, followed by watching Toy Story 2 (for the 100th time).
Monday, Dad and Pastor Brown put in the counter top, minus the sink, and painted some.
Tuesday, Dad put in the sink, and they painted some more. It's really coming along!
Wednesday, Isaiah covered his hands and his feet in my mascara. So very thankful that Clinique makeup remover took it all off.
Thursday, Dad and Pastor Brown were working some more (more painting, and cleaning out the house) so I got them lunch.. and brought back all the change.
Friday I had class, and then we took a nap. Later, we went to my mom and dad's house, and played some music.
On the way home, Isaiah decided he wanted to wear my chemistry goggles. Safety first, guys!
Today was a pretty boring day waiting for packages to arrive. This one came with a Mickey sticker to seal it. Too bad it's not for Isaiah, he really liked the Mickey sticker and the stuff inside.