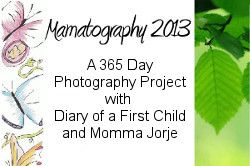 Mamatography: A 365 Day Photography Project. At least one picture per day of what you did that day.

Sorry I'm late again. It was a long weekend, and it completely slipped my mind.
Sunday was my first time singing with the worship team in service. Have to admit, I was a nervous wreck. I definitely have a bad case of stage-fright. After church, we had dinner at my parents' house, where Isaiah was really unruly. Hitting and kicking and throwing things. Ugh. So we came home mid-dinner and he took a nap.
Monday, I did some Christmas shopping for Isaiah while working on a research paper. Isaiah was watching Dragon Tales (another show from my past.. or rather my B's past).


I took videos too. It was hilarious at the time and I was laughing and making fun of B--or rather the guitar, which was out of tune and sounded quite tinny... (it's my guitar, which is a completely different story.) Anyway.. here's a video of some of it:


Sorry for the sideways video for a bit.. but I realized it and turned it. Lol




Friday we relished in the fact that I didn't have to go to my 7:45am class by making loud "music" with the hose to the air pump from my exercise ball. Who needs fancy instruments when you have plastic hoses?

Saturday was the Big Game, a.k.a. OSU and Michigan. For some reason, I the Goodyear shirt I got out for Isaiah didn't make me think of Michigan until we got to my cousin's house. We root for the Buckeyes though, so only the Michigan lovers of the family even gave it a second thought.