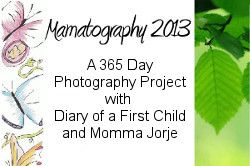 Mamatography: A 365 Day Photography Project. At least one picture per day of what you did that day.
Sunday was good, as per usual. We had dinner at my grandma's house (Isaiah's Meemaw) and it was just us, Grandma, my cousin, her husband, and their three boys. If you know me, you'll know that's pretty small for a Sunday dinner at Grandma's house. Then we came home and for supper, Isaiah wanted waffle sticks. Again. At least it's not that hard to whip up 3/4 cup of batter to make 1 batch of waffle sticks. Haha.
Love his hair in this. It just shows off his nap hair.
Monday started the 2 week challenge with
Mamavation
and Bob Harper.
That night, after class, we stayed at Mama and Papa's house for a bit to watch the weather reports on Hurricane Sandy, and so Isaiah could watch Magic Mike and other shows he can't watch here since we don't have cable.
Sitting *on* my mom watching TV.
Tuesday, we stayed home while Sandy stormed around us, losing power for a few times a couple of times as the transformer by us blew again and again. We had fun, did the new workout for the 2 week challenge, and tried something new for dinner: Spaghetti Squash. It's really quite good with just butter and salt. It tastes kind of like Acorn squash, if you like that.
Wednesday was Halloween, and Isaiah knew just how to start it off: by saying let's work out, then getting his "weights" and pointing at the computer screen telling me "That's Bob! He's a teacher." Then he went to preschool for his Halloween party, where he dressed as Thomas the Train, and I went to my classes.
Pointing at Bob. See his cute little "weights"?
Wednesday, after class, I also took some pictures of the storm damage. Missing shingles, damaged shingles, and a downed tree limb, but no leaks and no big damage.
Thursday, we stayed for most of the day. We did take a trip to the store for some groceries, which was pointless because I got home without buying the most important thing I went for: boneless, skinless chicken breasts. But I had some leftover beef vegetable stew my mom made, and for dinner we made some crescent roll tacos▬the only form of red meat Isaiah will eat.
Mmm Beef Vegetable Stew.
Crescent roll tacos.
Friday, I had class again. After class, we cleaned some and I reorganized Isaiah's toy shelves under the TV. We also took a looong nap and then Isaiah went to bed around 9:30, while I stayed up and read until 2:30. Sigh, not my intention. Especially when I knew Isaiah would only sleep till 6:30 or 7.
Yay for organization! Somewhat.
Today (Saturday) started off great. Isaiah was a bear, and had his "berries" along with his waffles for breakfast. Then we had every intention of going to Joann Fabrics for supplies to finish his indoor magnetic fishing game. But, alas, he threw an epic tantrum, peed his pants, and was put in time out. So instead of going shopping, he ended up in an early nap, where he is now. And tonight, we'll be going to my parents house for dinner.
Isaiah's "berries" on top of his memory game.
Any tips for dealing with epic tantrums which include peeing his pants for revenge? I could use them dearly.