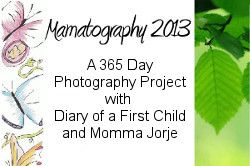 Mamatography: A 365 Day Photography Project. At least one picture per day of what you did that day.
Sunday, we went to church and then spent the rest of the day at my parents' house. It was Mamaw's birthday, so we wanted to be together. My aunt and uncle came over for dinner too and we had some good food and great conversation.
Isaiah took a nap with Mama and Papa in the BIG bed.. and made sure to take up most of the bed.
Monday I had school, a weird hair day, and weird conversations. I even got everyone in my English class to vote for my little sister (B) for a Rider Of The Month contest, and she won!
Tuesday, signed up for the Mamavation 2 week challenge with Bob Harper. I also found out that the Fox News channel on my Roku box had live streaming of the debate.
Wednesday was the first Wednesday that I didn't have my early morning Anatomy lab. Isaiah and I celebrated by making more messes and lounging around. His favorite position? Laying lengthwise on my leg.
Thursday, I found an app that puts "ghosts" in your pictures.
Today we went to JoAnn Fabrics for some craft supplies, you'll see tomorrow, and Walmart for Isaiah's costume and some food. We saw a lot of people we knew: my aunt, uncle, and their three boys, and a lady from church and her two boys. And, of course, since I worked at Walmart 3 years ago, we saw tons of people I used to work with.
Isaiah finally settled on a costume: Thomas the Train.
And now we are off to mom and dad's house again. Have a good night!