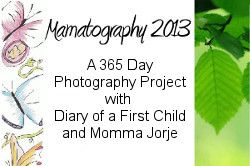 Mamatography: A 365 Day Photography Project. At least one picture per day of what you did that day.
For about a week and a half, my knee has been aching/hurting every time I move it. I've been using my
Arctic Ease
wrap which is Awesome. I don't have to sit there with an ice pack on my knee, not able to move. I can wrap it up and still be able to walk around and take care of Isaiah and the house.
Disclaimer: I received the cold wrap for free as a part of a Mamavation 2 Week Challenge. I'm not being paid to tell you about it, it's just great and I wanted to tell you about it.
Monday, Isaiah got a surprise from Mama. She got a replica of a semi used to haul Goodyear stuff from work. He loves it. It fits his hot wheel cars in the trailer. It's actually OEM Certified, which I think he'll be more excited about in the future. Last week she got him a Goodyear shirt and hat. His shirt says Awe(wingfoot)some. The truck has many movable/removable parts, so what you see here is missing some of the parts.
Little I and his new Goodyear truck.
Later that night, Isaiah started getting tired and cranky. I sent him up to the bedroom for a time out/calm down time when he started hitting. I came up 5 minutes later and found him passed out wearing his glow necklace.
Had to take a picture before I took the glow necklace off him.
Tuesday, we went over to my parents' house and B took pictures of us (with my Nikon) in the back yard.
One of the pictures that B took and I edited with Photoshop.
Wednesday we had school. I had 2 exams, which left me exhausted. I did manage to find this when I went to my parents house between my last class and picking up Isaiah from Awana.
Thursday... To be honest, most of Thursday is a blur. We didn't really leave the house. We cleaned, played, cleaned some more, and took a nap. I love days off because of naps. I've been so tired lately, and even though a nap eats up 1.5-2 hours of my day, I need it.
My semi organized cabinet, a result of my cleaning.
Little I had pinkeye at the end of last week. I was not a happy mommy. He also had a horrible night of sleep Friday night (maybe because of the pinkeye?)
Saturday I took Little I to the clinic and got him eye drops. Sorry I didn't take any pictures. It was a very hard day: It took 2 1/2 hours to get his prescription filled because of insurance, Isaiah was cranky because he was sick and tired of being in the cart. By the time we got home it was nap time, and after nap he was still cranky and clingy. I didn't get a single thing done.