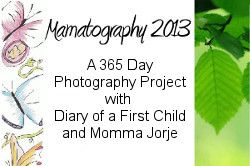 Mamatography: A 365 Day Photography Project. At least one picture per day of what you did that day.
Sunday we were getting ready for church (see handsome little man below) and Little I decided it was time to paint, without asking mommy. He got purple paint all over his pants and shirt (but nowhere else.) Luckily it was washable paint, but as we were leaving in 2 minutes it caused a massive scramble to find new dress clothes.
Monday my order from
Little Black Bag
I got 2 pair of gorgeous earrings, two bracelets, a necklace, an under-eye highlighting cream, and a bronzer/highlighter, all for under $50 (before shipping).
Note: If you use the link to LBB above and purchase a bag, I will get a free item worth up to $25. You can get one too by sharing your personalized link.
Tuesday was my off day. Little I woke me up with a bloody nose. At first I didn't know what was wrong because his ENTIRE face was covered in blood. As were his hands. And his bed. And his clothes. So I freaked out for a bit while cleaning him up. Once he was clean and I realized it was just his nose, though, I calmed down and moved him to my bed for the night.
That day was all about studying and playing with Little I and cleaning... I'm not fooling you, am I? I tried on my jewelry. I played on the computer. But I was too tired from the night before to do a lot of playing, so we read books. We were supposed to go to the library, but we were both cranky from too little sleep.
One pair of earrings I got. These are the a.v. max - Stone Drop Earrings
Wednesday seems like a blur. We had a test and a practical in anatomy (lab), analyzing Martin Luther King Jr's "Letter From Birmingham Jail" in English Comp II, a long lecture in anatomy (lecture), and another long, but fun, lecture in my GOBC (lecture).
My mom picked up Little I from preschool and after class I picked him up and took him to Awana at our church, where my aunt helped me understand some more from MLK Jr. and I captured this lovely sunset. Really, it doesn't do it justice since it's a phone pic.
Wednesday night sunset from the church driveway.
Thursday we did some crafts (one from Pinterest) and even though Little I was having a hard time listening, we had an okay day.
That's his ornery smile.
Friday was my parents' 27th anniversary! We had school and then we went to the library
finally
and got a bunch of books. When we got home, Little I
needed
a nap. My parents were going out to dinner to Red Lobster, so I talked to B and asked if she wanted to hang out. After Little I woke up from his nap, we went over to Mama and Papa's house to see B, where Little I and B talked to people on the computer and Little I watched his favorite Disney shows. After Mama and Papa got back from dinner, we took some pictures of Little I with them.
Watching cartoons with Papa.
Snuggles with Mama.
Today we had a memorial dinner for Mamaw. Just family and friends who knew and loved Mamaw. I'd say it was a small group, but you know how big my family is. We ate good food, sang TONS of songs... old southern gospel, old hymns, and some praise and worship. The kids played, the adults talked, and in the end it was really great.
Watching the Ohio State game after most people left.