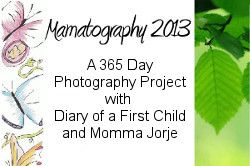 Mamatography: A 365 Day Photography Project. At least one picture per day of what you did that day.
Sunday we spent more time with Mamaw and tried to keep Little I calm and out of trouble. Kind of tough for a 3 year old with endless energy. My cousin T and I took him to an awesome park that had a pirate ship jungle gym thing, two island climber things, and a bunch of other stuff that kept him entertained and ran out his energy for over an hour. My phone was dead so no pictures of the awesome park. Then we came back and had dinner.
In the last Mamatography post, I told you that we left Sunday night after our dinner/farewell.
Little I watching a movie on the laptop at my aunt and uncle's house.
We got back to mom's house around 6 a.m. Monday and got about 3 hours of sleep there after we ate some breakfasts. Then he was a ball of energy until bedtime, minus his hour nap, I even had to have him call and talk to Papa so he would calm down and go to sleep.
Nap time airing out his booboo. Same shirt as Sunday. Don't judge.
Tuesday we picked up B from school cause she gets out at 12:00pm now and took some pictures in the house since it was raining.
Kissing B
Shoulder rides. He only smiled so he could spin the fan.
Kissing mommy
Wednesday, it was time to go back to school and Little I got his stitches out. Apparently now stitches in the face get taken out after 5 days instead of longer because they start to adhere and grown into the skin and it causes worse scars. Then we had dinner with my aunt, uncle, mom, and B.
Excited to not have stitches anymore
That chicken breast was huge. I saved half and used it as lunch the next day.
Thursday, we picked up B again since it was my day off school and watched Dino Dan (One of the shows that fascinate Little I) and went to the grocery store where we saw some cool clouds at sunset.
So pretty! No filter or anything.
2 minutes later the whole color changes.
Friday was another busy day filled with school, my Moms to Moms meeting, more school, and a failed naptime.
Getting ready for bed. Still so much energy!