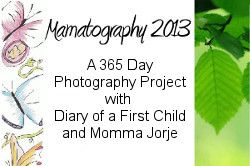 Mamatography: A 365 Day Photography Project. At least one picture per day of what you did that day.
I don't really have much to say right now. I'm still not in the best mood for writing. I do have pictures, though. So here they come:
Hanging out watching movies and playing on our phones.
Mama got Little I a new hat from work.
Little I wouldn't keep still for pictures.
A picture I took to remember what my English Comp teacher told us to do.
Traveling to NC, going over the bridge to WV
Sorting through pictures for the memorial slideshow