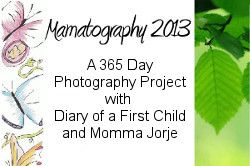 Mamatography: A 365 Day Photography Project. At least one picture per day of what you did that day.

Sorry this is late. :-)
Another week has passed. It was mostly the same boring week I was expecting. Except that Little I has been testing his boundaries SO much more lately. I don't know if it's because he's back in daycare/preschool or just a normal stage of development, but it is driving me insane! I wish I had the money to enroll him into something like karate or gymnastics or something to take out some of his pent up energy and frustrations. Even just playing outside with him lately is enough to give me a heart attack. He constantly either runs toward the road or toward what I have termed "the cliff" at the back of the yard. It seems all I do anymore is yell, and then apologize for yelling. It's frustrating me to no end.
Anyway, on with the pictures:
Sunday was Grandparents' day. Little I and I went to Friendly's for ice cream before going to my parents' house.
We went to Friendly's for ice cream.
Sorry the video is sideways. This is Little I dancing in his seat. He does this all the time and I crack up every time.
On Monday, I received this cold wrap from Arctic Ease. it arrived right on time because I was doing the Mamavation 2 Week Challenge
Tuesday was my off day. We played around the house.
Basket head. :-)
Wednesday after school we went to my parents' house. This is my block tower made with Go, Diego, Go! dominoes.
Thursday was another home day. After we picked up B and took her to the barn to work, we went to JoAnn's and then I organized the smaller parts of the crafting stuff into a basket. It now goes on Little I's art easel.
Friday for my English Comp II class we had to make a one page comic about giving a dog a bath. It also had to tell a story. Let me tell you, for someone who has given a dog a bath less than 5 times in her life, I knew I wasn't going to be able to tell a story ABOUT giving the bath. So I focused on the before: the search for the rubber ducky.
Saturday Little I dressed himself. He did pretty good, even if he did forget the underwear.
Also, Saturday was B's Homecoming dance. Isn't she pretty?