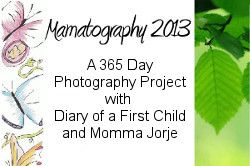 Mamatography: A 365 Day Photography Project. At least one picture per day of what you did that day.
Sorry for the stand still on the blog. This past weekend is still kind of a blur. I'll tell you more throughout the post.
Sunday, we went to church as usual and then went to my Grandma's house for dinner. We had a really fun day.
Monday was Little I's first day of Preschool and my first day back to college. He wouldn't look at the camera!
Tuesday is one of our off days. I love only having class Monday, Wednesday, and Friday.
Wednesday was another "Mama" day. I took a self portrait. :-)
Thursday we found out my Mamaw took a turn for the worse. Her cancer is spreading rapidly and she now has fluid around her heart. We don't think she'll make it much longer. My dad left that night for North Carolina with my older sister (N) and Mom, B, and I decided to leave right after I got out of class on Friday.
Mamaw's house. It's crazy to think she'll never be back here.
Friday, I dropped Little I off at daycare and was listening to my Biochemistry lab teacher drone on about lab safety (Seriously, do they really think these rules change from one lab to another) when I got a call from the daycare director. I let it go to voicemail so I could get out of the lab and call her back. Apparently in the 20 minutes since I dropped him off, Little I had fallen--well jumped over a foam block and landed head first on a wooden block--and she thought he needed to be seen. My mom picked him up because she was working from home that day (since we were leaving early) and called the doctor's office to see what they wanted to do. They sent Little I to the hospital because the cut was longer than a quarter inch. He ended up needing five stitches. Poor baby!
He was not happy that they were touching him.
Saturday we traveled all night and got to my aunt and uncle's house at around 1:30 a.m. The moon was so pretty I had to snap a picture. I ended up forgetting my camera, so until Monday night I only had my phone.
Little I's cut with blue stitches on Saturday. Turns out he may be allergic to latex band aids like me. They rip off the first couple layers of skin around the wound. Not fun. We had to go to WalMart on our way down to get some more band aids and some Ibuprofen because I forgot to get some.
He's not actually asleep here. He just didn't want his picture taken.






We stayed there for the weekend so that we could say goodbye to Mamaw. We had a family dinner with a larger group of family and there were people in and out the whole time we were there. We were going to leave at around 5 am on Monday to get back home in time for B's horse lesson, but decided to leave on Sunday night around Little I's bedtime. We had a nice, albeit emotional, dinner and farewell. My uncle took some family pictures with Mamaw so I may be posting one or two on the next post when he sends them to me.