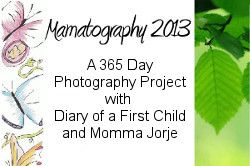 Mamatography: A 365 Day Photography Project. At least one picture per day of what you did that day.
Aw Geez! This week has flown by! I've been preparing for school to start (It starts in two days!) and getting Little I switched to a different daycare. He'll actually be going back to his original daycare for a few different reasons: 1) I am tired of him getting bitten/injured for no reason, 2) His old daycare has made a lot of staff changes and the teachers that I actually liked before are still there--except one, boo! 3) they have a preschool class, and 4) They are rated with a 2 Star Step Up To Quality rating in a 3 star quality rating system.
I'm really excited for him to start preschool, and for once he's sharing in the excitement. He keeps asking when he gets to go to his new school.
And now, on to our week in photos:
Sunday, as always, we went to church and then had dinner with my family. We spent some time winding down later, and Little I decided that this was the best way to get his chair to lean back without the risk of falling over.
We got a mini "learning" trampoline (it was the cheapest) because my friend has one and her daughter and Little I were fighting over jumping on it when we were over there last. He LOVES it. He can get some pretty big air too.
.Tuesday, we cut Little I's hair again. I buzzed it again because it just grows so fast!
The first feel..
Wednesday was Mama day, so my mom (his Mama) picked him up a little after 5 p.m. when she got off work
Waiting for Mama.
My order from Kmart finally came in too! Little I loves his replacement pool since his one from last year somehow got a hole in it.
He loves his new pool.
Apparently this is how people from my neighborhood walk around. In the middle of the day. Down a street with TONS of kids playing

.

When we were playing in the pool on Friday, the train that runs right behind my house made itself known, and Little I reacted like he normally does:
The face of fear. He covers his ears and clings to me.
The train:
Little I used to think it looks like something from Chuggington.
Finally pulled him away from his trampoline and pool and he played with his trike and other toys today.
The Trike
Lining up his cars. He Always does this.