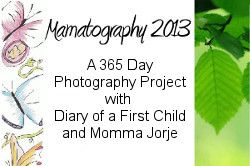 Mamatography: A 365 Day Photography Project. At least one picture per day of what you did that day.
Sunday we had dinner (aka lunch, but on Sundays it's called dinner?) with my family and, as always, Little I was a ball of energy and nearly every word out of his mouth made us laugh.Then we came home and took a nap, made chocolate milkshakes, and played with puzzles, his art easel, and lots of cars. By the way, chocolate milkshakes leave a very distinct mustache.
Some smiles and chocolate milkshake mustaches. Oh, and some Very blue eyes.
Monday started off with some silliness. Then we went to the library, gas station, and then back to the library because I forgot to return a book. After that, we came home and painted with watercolors for the first time at home. Little I has done wonderfully with the water colors and my floors show no sign that they're even here. :-)
I also bid on, and won, a Nikon D3100 with AF-S 18-55mm lens. I'll be expecting that sometime by next Monday and then I'll finally get to start working with a DSLR camera! So excited, you have no idea!
At breakfast Little I decided that his car basket made the perfect hat.
First time with watercolors at home. (we've been using the color wonder equivalent until now)
Tuesday we went to the grocery store, painted with more water colors, colored on the dry erase side of the easel with Crayola's washable dry erase markers and spent some time before bed time in the bathroom painting with shaving cream and food coloring.
Painting with shaving cream in the bathtub.
Wednesday cleaned a bit and after a long nap (for Little I) my mom picked him up for Mama/Papa day
.
Thursday I watched my best friend's 2 sons for a few hours M, who you've seen in a previous post, and X, who turned one that day.
I put Little I's 1st birthday shirt on X to send him home in.




Then my Nikon D3100 that I got on Ebay finally came (after waiting all day while UPS said it was on truck for delivery) at 5:30pm. I actually had a bit of a panic moment when I accidentally entered an old tracking number from a Paypal shipping confirmation email and it said it had been delivered.. but it wasn't here. It took me a bit, but I finally realized the date said 7/31 instead of 8/16. Haha.
Friday we were going to go to the park. What better place to try out my new camera? But then the weather decided it didn't like my plans and it rained. I tried out a few things inside, but there wasn't enough light in the house.We went to my parents house for dinner, and Little I played on the floor with Papa, which doesn't happen often because he has
Ehlers-Danlos Syndrome
.
Paying with Papa, being careful not to bounce. :-)
Saturday we were busy all day! Finally we stopped for lunch at
Swensons
drive in (only in Ohio), which is my FAVORITE place to eat ever (it's better than A&W in my opinion).
Waiting for our food in the car
All in all, it was a wonderful week, and hopefully I'll have time to play with my camera this week!