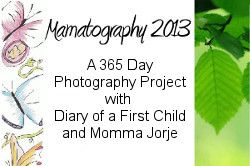 Mamatography: A 365 Day Photography Project. At least one picture per day of what you did that day.
This week was kind of hard. We found out that my Mamaw's cancer has metastasized, so now it's in her back, hip, legs, lungs, etc. She has been given 3-6 months. I just lost my grandpa to cancer last September. I don't know how I'm going to handle another loss, let alone prepare Little I to lose another grandparent. Any insight you have is greatly appreciated.
Also this week, Little I has been testing boundaries, growing in leaps and bounds in regards to his imaginative play, and just being his general loving, cheerful self.
Eating Yogurt dots.
Mamaw, Papa, and Mama canning beans.
Playing with trains.
Block Monster; Rawr!
Watching the construction workers.
Dinner at Golden Corral. Little I loves the chocolate fountain.