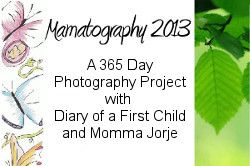 Mamatography: A 365 Day Photography Project. At least one picture per day of what you did that day.
This week was Painful. With a capital P. I sprained my ankle on Monday walking from my van to the building. If I had only been out on break or any time while 'on the clock' or even leaving work it would have been covered by the company. Bleh.
Sunday wasn't my day either. Dropped an IBC rootbeer I was getting for B and spilled my soda in the process, broke 2 nails, and a rock hit my windshield and cracked it.
Friday I finally managed to make it to MOPS, and made a french toast casserole to bring.
Crack in my windshield. :-(
Swelled up to the size of a softball.
Cutting my street. Getting ready for sewer work.
Oh no.. Snow.
All over my car. :-/
Impromptu family dinner. Mamaw, Papa, and Little I.
French Toast Casserole before baking.