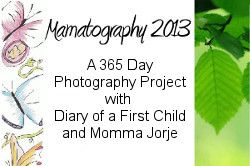 Mamatography: A 365 Day Photography Project. At least one picture per day of what you did that day.
A continuation of our vacation. We headed back on Saturday (got home Sunday) and Little I was wonderful the entire time. He also got to swim in a pool and had absolutely no fear. I, however, cringed a little each time he jumped in and just took off across the pool.
Hanging out in the camper.
My aunt and uncle's house from the driveway. They live on the side of a mountain.
Our attempt at a family picture.
All of us cousins took pictures together and got matching frames.
My cousin's 4th of July themed baby shower.
My uncle grows some extremely pretty flowers.
He has definitely come a long way from the last time we were down there.
My little fish.
He was even jumping off the diving board!
New shoes! I don't often get new shoes (my last pair was a gift from Christmas).