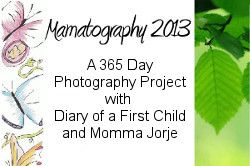 Mamatography: A 365 Day Photography Project. At least one picture per day of what you did that day.
It is becoming so much harder to remember to take a picture every day. I forgot just about every other day this week. Oops.
Now that we can wear t-shirts to work, might as well show my A-K-Rowdy pride, right?
And an old high school shirt.
So tired. Didn't even touch the fruit cup he asked for...
Lucky for me, he loves whole fruits. :-)