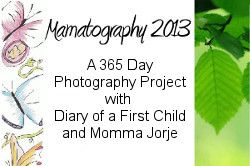 Mamatography: A 365 Day Photography Project. At least one picture per day of what you did that day.

This week I only worked 2 1/2 days, then we went on vacation to North Carolina with my mom, dad, and little sister (B). Every year my aunt and uncle have a 4th of July party and it's a tradition now for us to go down every year. My parents tow their camper and we stay at the Georgia Mountain Fairground since my aunt and uncle live just across the border in North Carolina, and it actually only takes about 10 minutes to get to their house from the campground.
Obligatory bathroom shot.
Tried to make a fabric headband I found on Pinterest. I may end up just getting some knit fabric instead of making it from a t-shirt.
On the way to NC. Stickers, pens, cars, movies, and a few other surprises kept him busy while we were driving.
We stopped for the night, so we still had a day full of travel ahead of us. We ended up stopping at a campground (I think in Tennessee--we avoided the mountain route for the most part)
Right around nap time, Little I decided to lay down and watch a movie.
We were stuck in traffic for what seemed like forever.
Trying to let my family sleep in Friday morning so we went outside to play. Little I didn't get the memo that vacation means sleeping in past 6:30.
The warning label on one of the fireworks we brought down for Saturday night's party at my uncle's house.
Yay fireworks! Little I was scared of the noise and had to go in the house to watch them.
Reading with Mamaw.