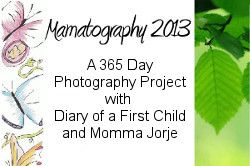 Mamatography: A 365 Day Photography Project. At least one picture per day of what you did that day.
These nicely folded clean clothes make the perfect place to bury yourself, mom.
Our moat, courtesy of the sewer construction. It filled up 5 minutes later.
On one of his "I don't wanna wear clothes" days.
I cannot believe he got bit again!
New TV stand.
Little I got to drive for the first time. His Papa let him drive the big German tractor named Curly.