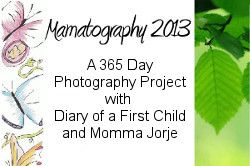 Mamatography: A 365 Day Photography Project. At least one picture per day of what you did that day.
Just seeing this makes me think "Witness Protection Program." I watch too much In Plain Sight.
GoGoSqueeze applesauce pouch. He loves them!
This wasn't even bedtime. He had just finished snack and went upstairs to wash his hands/face. I found him here 20 minutes later.
He found a diaper left by a friend. Gorillas need diapers too, right?
The moon looked really neat the other night.
His "cave"