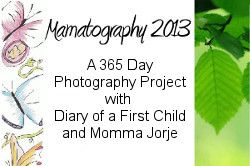 Mamatography: A 365 Day Photography Project. At least one picture per day of what you did that day.
My best friend and her son X.
First ice cream cone from Strickland's of the season.
C finally let me pull her loose tooth.
Little I and his Mama and Papa.
I'm loving this new haircut.
M and C's doll.
My little tree hugger.