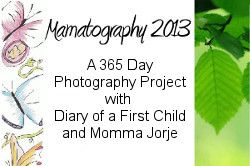 Mamatography: A 365 Day Photography Project. At least one picture per day of what you did that day.
Sunday, we went to church then to my parents' house.
Eggs and crackers, it took forever to get him to eat the eggs
B giving Little I horse rides
Apparently this horse was a little buck happy
Monday, I had my first day of class of this semester (Child Development) and then went to work. A little after three in the afternoon, I got 2 calls from Little I's daycare--which of course I couldn't answer at work--and then a call from my mom. Now I was panicking! So I asked my mom what was going on via text, and she told me that Little I was sick and puking. Great.. My mom picked him up and I met them at my house.
This is when he finally passed out, only to wake every half hour alternately puking and begging for chocolate milk. By the way, I'm loving this Clean Sheet. Mostly because it's green and waterproof.