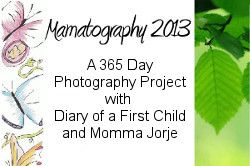 Mamatography: A 365 Day Photography Project. At least one picture per day of what you did that day.
Sunday through Thursday I was sick. Like bad-enough-to-keep-me-home-from-church sick. And I think I gave it to Little I, at least partially. Poor bugger. When he's got the sickies, sometimes I give him a paci. This week he demanded it, haha.
Pretty much this week has just been work, school, and taking care of both Little I and me.
Also.. Wednesday sucked. I was at work and got several calls from Little I's daycare. Turns out he was trying to sneak away (crawling) from his nap cot and hit his head on the table. I don't really believe their story because he has a GINORMOUS goose egg and bruise. I'm sure he'll have a black eye for a little while.
Saturday I went out for my birthday and my mom kept Little I overnight and took him to church with her. My birthday is the ONLY time I ever let myself get anywhere close to being drunk. Mostly because my friend K will always be there to make sure everything goes well and I'm safe. We ended up going to a couple of bars then back to her house and crashing (like, all 12 of us) and then went out to brunch when we woke up. (oops, that's leaking into next week's post) :-)
Shapes and Animals? A horse and a...?
Ah.. The paci.
Cheese (pre goose egg)


Goose egg slowly going down on Thursday (crappy phone camera shot)
Friday's progression. Lovely black eye.
The best shot I have from Saturday.