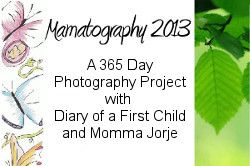 Mamatography: A 365 Day Photography Project. At least one picture per day of what you did that day.
Today I was off from work and Little I and I spent the whole day together playing, eating, and doing chores. Here are a couple shots from today:
Little I playing around. Luckily all the mess was cleaned up by bedtime.


Mmm. Pizza for dinner.